IBM iSeries Power 8 8286 42A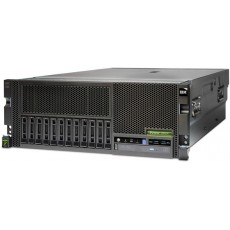 Abstract
IBM designed this iSeries 8286 Power 8 System to put data to work. With a strong commitment to optimizing AIX and IBM i workloads, these new systems deliver improved performance compared to the prior generation of systems and additionally offer unmatched price/performance value for integrated Linux applications.
Model  8286-42A
The IBM 8286 Power S824 server Model 42A supports two processor sockets, offering 6-core or 12-core 3.89 GHz, 8-core or 16-core 4.15 GHz, or 24-core 3.52 GHz configurations in a 19-inch rack-mount, 4U (EIA units) drawer configuration. All the cores are active. The Power S824 server supports a maximum of 16 DDR3 CDIMM slots. Memory supported are 32 GB, and 64 GB and run at speeds of 1600 Mbps, allowing for a maximum system memory of 1024 GB. 
Highlights
The IBM Power S824 (8286-42A) server is a powerful 2-socket server that ships with up to 24 activated cores and I/O configuration flexibility to meet today's growth and tomorrow's processing needs. The server features:
The following fully activated IBM POWER8 dual-chip module (DCM) processor configurations in a 4U rack-mount form factor:

6-core or 12-core 3.89 GHz
8-core or 16-core 4.15 GHz
24-core 3.52 GHz

 

High-performance 1600 Mbps DDR3 ECC memory

16 GB (#EM8B), 32 GB (#EM8C), or 64 GB (#EM8D) memory features
Up to 1 TB memory with two Power Systems processor DCMs
Up to 512 GB memory with one Power Systems processor DCM

 

Choice of storage features:

Twelve SFF-3 Bays/DVD Bay
Eighteen SFF-3 Bays/ eight 1.8-inch SSD bays/DVD Bay/Dual IOA with Write Cache
Split feature to 6+6 SFF-3 Bays: Add a second SAS Controller

 

Hot-swap PCIe Gen 3 Slots

 

Integrated:

Service processor
EnergyScale technology
Hot-swap and redundant cooling
Four USB 3.0 ports for general use
Two USB 2.0 ports for non-general use
Two HMC 1GbE RJ45 ports
One system port with RJ45 connector

 

Four hot plug, redundant power supplies

 

19-inch rack-mount hardware (4U)
 
There are no reviews for this product.