Lenovo Nutanix Hardware HX1000 Hyperconverged Infrastructure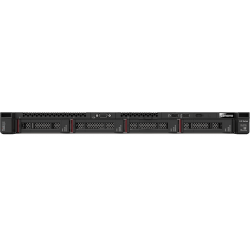 Lenovo ThinkAgile HX Series appliances include Nutanix Hyperconverged Infrastructure software that simplifies and automates IT infrastructure management, reduces costs, maximizes performance and system resources for small and medium sized companies. The Lenovo ThinkServer HX 1000 Nutanix hardware appliance provide the industry's most feature-rich Hyperconverged Infrastructure technology for small to medium sized workloads using software defined infrastructure to consolidate computing, storage, network, security, management and monitoring of critical applications into single scale-out IT ecosystem.
The ThinkAgile HX Series appliances offer the following key features:
Factory-integrated, pre-configured ready-to-go appliances built on proven and reliable Lenovo ThinkSystem servers.
Simple to implement hyperconverged infrastructure solution powered by Nutanix and Lenovo, with a single point of contact for any and all support 24X7.
Flexible configurations for various workload requirements, including hybrid and performance-optimized all-flash storage configurations.
Integrated hardware and firmware certified by Nutanix and Lenovo.
Deployment services to get customers up and running quickly.
Integrated data protection and continuous availability at VM granularity providing an affordable options to meet flexible RPO and RTO for different applications.
Fault resistant platform, with no single point of failure or bottlenecks using share-nothing architecture, where all data, metadata and services are distributed to all nodes within the cluster, that is built to detect, isolate and recover from failures anywhere in the system.
Single, intuitive management interface that simplifies all aspects of the IT infrastructure monitoring and management of clusters, workflows and automation of common administrative tasks.
Enterprise security features, including two-factor authentication, data-at-rest encryption, and security development lifecycle integrated into product development to help customers meet the most stringent security requirements.
---