IBM iSeries Power6 9117 MMA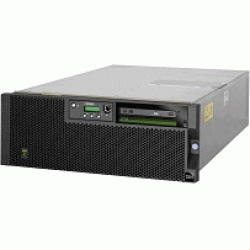 9117 IBM Power 570: Affordable Performance.
The Power 570 mid-range server is designed to deliver outstanding price/performance, mainframe-inspired reliability and availability features, flexible capacity upgrades, and innovative virtualization technologies.
The 9117-MMA iSeries is a IBM Power6 570 Model, has up to 32 cores, provides up to 104800 CPW. Each 9117 MMA must be custom configured to meet your specific requirements. Send us your IBM iSeries 9117-MMA system or MES Upgrade requirements for a quote. View our IBM iSeries system page for other IBM i Power7, Power6 & Power5 System Models or AS400 System page for older IBM 9406 models.
The 9117-MMA System i Model 570 uses one to four enclosures (4 EIA units tall each, 16U max), housed in a 19-inch rack. The 9117-MMA POWER6 processor is available with 2 iSeries processors per feature (using 3.5 GHz, 4.4 GHz and 5.0 GHz) or with 4 iSeriesi processors per feature at 4.2 GHz. Each System i enclosure has two processor sockets and can contain two POWER6 processor cards with one dual core module (two way processor feature) or (four way processor feature). The 4.4 and 5.0 GHz System i models with one dual core module use the POWER6+ version of the POWER6 processor. The 4.2 GHz models with two dual core modules uses the POWER6+ version of the POWER6 processor.
---