IBM Power10 Systems and Upgrades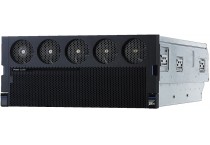 The IBM Power10 CPU
The IBM Power10 processor is designed for maximum power, security, reliability and scalability, capable of any enterprise workload needing improved performance or lower ongoing costs. The Power10 processor has 18 billion transistors that reside on a highly energy efficient 7 nanometer chip, equivalent to a postage stamp. IBM Power10 systems will enable companies to cost effectively run mission critical workloads onsite with high-speed processing that is both reliable and secure.
Power10 Security For Government Regulations
Any company with sensitive data and government privacy regulations to contend with, can confidently deploy AI and hybrid cloud workloads on a Power10 system to reduce licensing costs and increase performance. The IBM Power10 systems have technological breakthrough features that will benefit every data center, including memory inception that improves cloud capacity, and quantum-safe cryptography implemented with four times the encryption engines to protect data at rest and in motion without impeding performance.
Upgrade for Power10 Scalable, Cost Efficient Security Performance
Companies that haave contemplated using mainframe systems in the past for performance and security reasons, but could not justify the costs, will want to evaluate migrating or upgrading to a Power10 system. IBM's Power10 systems can speed up processing up to 4 times faster than many larger enterprise systems, and has the highest level of hardware based cybersecurity protection capabilities. All data managed within Power10 nodes is protected with end-to-end AES encryption 100% of the time, and even data that is transported out is encrypted. Data is not only encrypted in memory via hardware accelerators, Memory Inception enables Power10 system customers to create memory pools across Power10 system nodes that can scale multiple petabytes in size. Memory intensive applications can now access memory from systems as needed, while being completely protected by encryption.
The new Power10 systems are designed for both large and small enterprise applications, delivering the highest levels of availability, security, performance and scalability.
The processing performance gains compared to Power9 is 3 times greater, which can support up to 3 times more users. The more users and transactions a processor can support, the less companies have to spend on expensive "per core" based licensing of databases and related application expenses. The new technologies the Power10 platform is initially providing is amazing as it stands, but it is only serving as the building block or foundation for the many more enhancements that will be released in the coming months. As time progresses, IBM will be releasing new capabilities for Power10 customers that followers can already read about.
At the moment, only customer environments with IBM i OS400, AIX, Red Hat Enterprise and SUSE Enterprise Linux Server distributions can migrate or upgrade to a new Power10 system now. As of September 19, 2021, the only Power10 model available is the Enterprise-class E1080 9080-HEX.