Software Defined Storage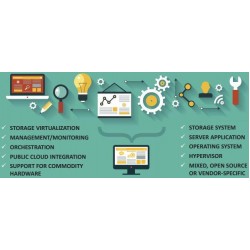 IBM Software Defined Storage solutions opens the doors to your data so it's to users and enhances your existing storage infrastructure so it can be exploited for new purposes and technologies such as Big Data Analytics, Hadoop, Private or Public Cloud enablement, increases performance of applications, dramatically lowers storage growth costs and adds flexibility to your traditional storage model. IBM's Software Defined Storage offerings are proven virtualization solutions that cost-effectively optimize your current storage environments, while at the same time delivers many new means to deliver and utilize your data. IBM SDS features are delivered by the Spectrum Storage family that reduce costs and complexity of deploying agile, reliable and intelligent storage services to your users. IBM's software define storage will deliver your data regardless of the type of data, applications or storage device it's on, and there's no geographical location limitation.
IBM's Spectrum Storage SDS offerings are in part a compilation of existing IBM storage solutions, such as features and functions in the StorWize family, Tivoli product line, XIV storage system and other successful IBM product lines that have a long history of proven success. The IBM Spectrum Storage family consist of many new product lines designed to integrate and enhance your existing Block, File and Object storage infrastructure, including Flash, SAN, NAS, Disk Arrays (JBODs), Server storage and tape. IBM Spectrum Storage solutions will knock down the walls to unify your data and enable elastic scalability so you are not tied to a single storage vendor or traditional architecture that holds your data hostage.
---