Used IBM Servers | New Power 10 Systems | QRadar SIEM Security
IBM POWER8 vs. POWER9 Comparison for 2021
IBM Server upgrades – always a tough call. Should you invest in a new POWER server if your workloads are running just fine on an earlier model? Perhaps, as the new POWER9 servers received a major performance boost thanks to improved hardware, memory, and enhanced on-chip acceleration. In this post, we'll show exactly how POWER9 compares to POWER8 in terms of memory, CPU, TCO and overall performance. Let's dive in!
POWER8 vs POWER9: Tech Specifications and Main Improvements
POWER9 with comes loads of new hardware. Some are enterprise-grade, other are more focused on small to mid-range applications. The latter include Power9 models S922, S914, and S924 as well as Linux and SAP Hana specialized variants, the L922, L924, H922, and H924. Every new model comes equipped with robust POWER9 processors: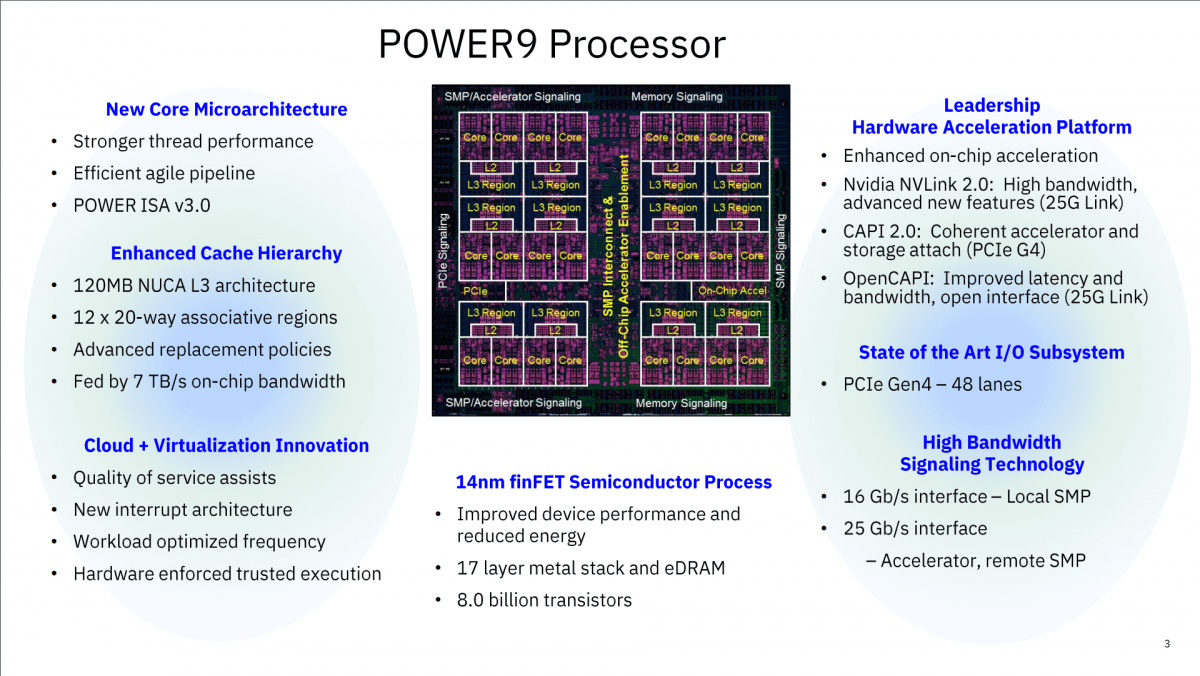 Source: IBM
Here's a quick comparison chart further illustrating how POWER9 hardware stacks against POWER8 and POWER7: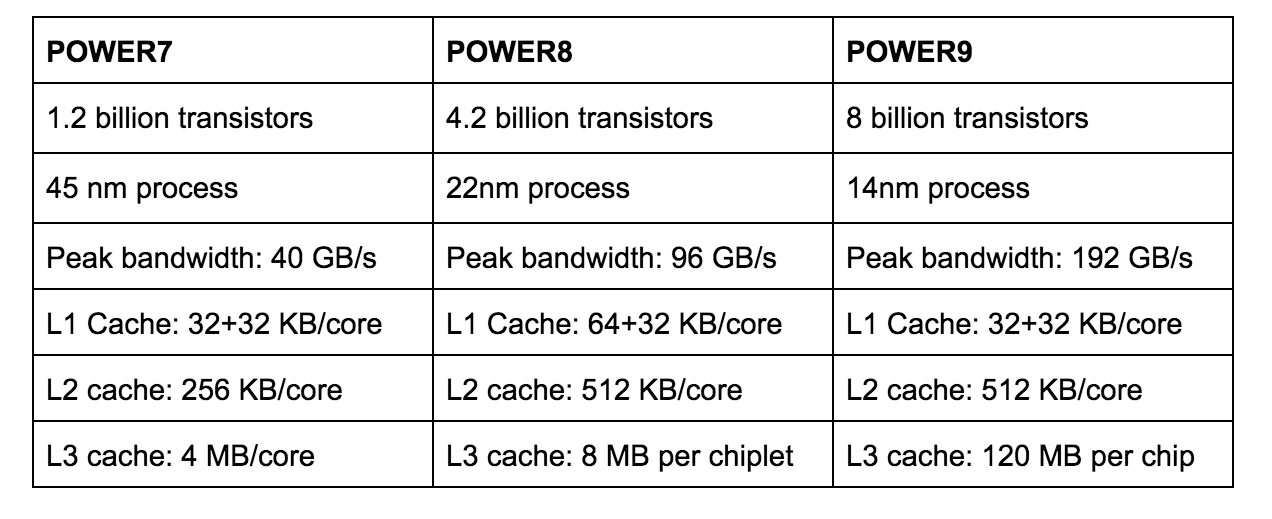 Arguably, the biggest advantage of a new POWER9 server over POWER8 is the new hardware acceleration platform consisting of the following:
Enhanced on-chip acceleration – Gzip x1, 842 Compression x2, AES/SHA x2.

PowerAXON – a collection of high-speed I/O interconnects operating at a signaling rate of 25 GT/s. The AXON stands for A-bus, X-bus, OpenCAPI, and NVLink.

Nvidia NVLink 2.0 – the upgraded lane can communicate at 25Gbps in the first iteration.

CAPI 2.0 – can help achieve four times the bandwidth of POWER8 in combination with PCIe Gen 4.
Secondly, IBM gave POWER9 pipeline a trim and reduced it to 12-stages:
5 stages were removed from fetch to compute, and from fixed-point operations.

IBM eliminated instruction grouping at dispatch.

Hazard avoidance and reduced hazard disruption received an upgrade.
So what do all of these hardware upgrades mean in terms of performance and stability? Here are a few quick TLDs before we dive into the specs:
Compared to POWER8, POWER9 has 1.5x better performance and 2x more memory.

POWER9 comes with 1.8x more memory bandwidth per socket and up to 57% lower solution cost.

In general, IBM state-of-the-art servers are 18x times more reliable than those from other companies.
POWER 8 vs. POWER9 Performance Compared
With a new system series comes new Power benchmarks (October 2019 release), IBM uses a proprietary rPerf benchmark for AIX in comparing the performance of different systems. Below is a sample from POWER 8 vs. POWER9 performance report, showing how S822 model stacks against S922:



Source: IBM
Here are a few things we can extrapolate from this data sample:
Upgrading from POWER8 822 server with 8 cores to a POWER9 922 server with 8 cores that's using SMT8, their rPerf value rises from 122.9 to 202.3 – that's a 60% performance boost.

Additionally, you can also divide the rPerf score by the number of cores to estimate a relative capacity per core.
POWER9: In-Depth Overview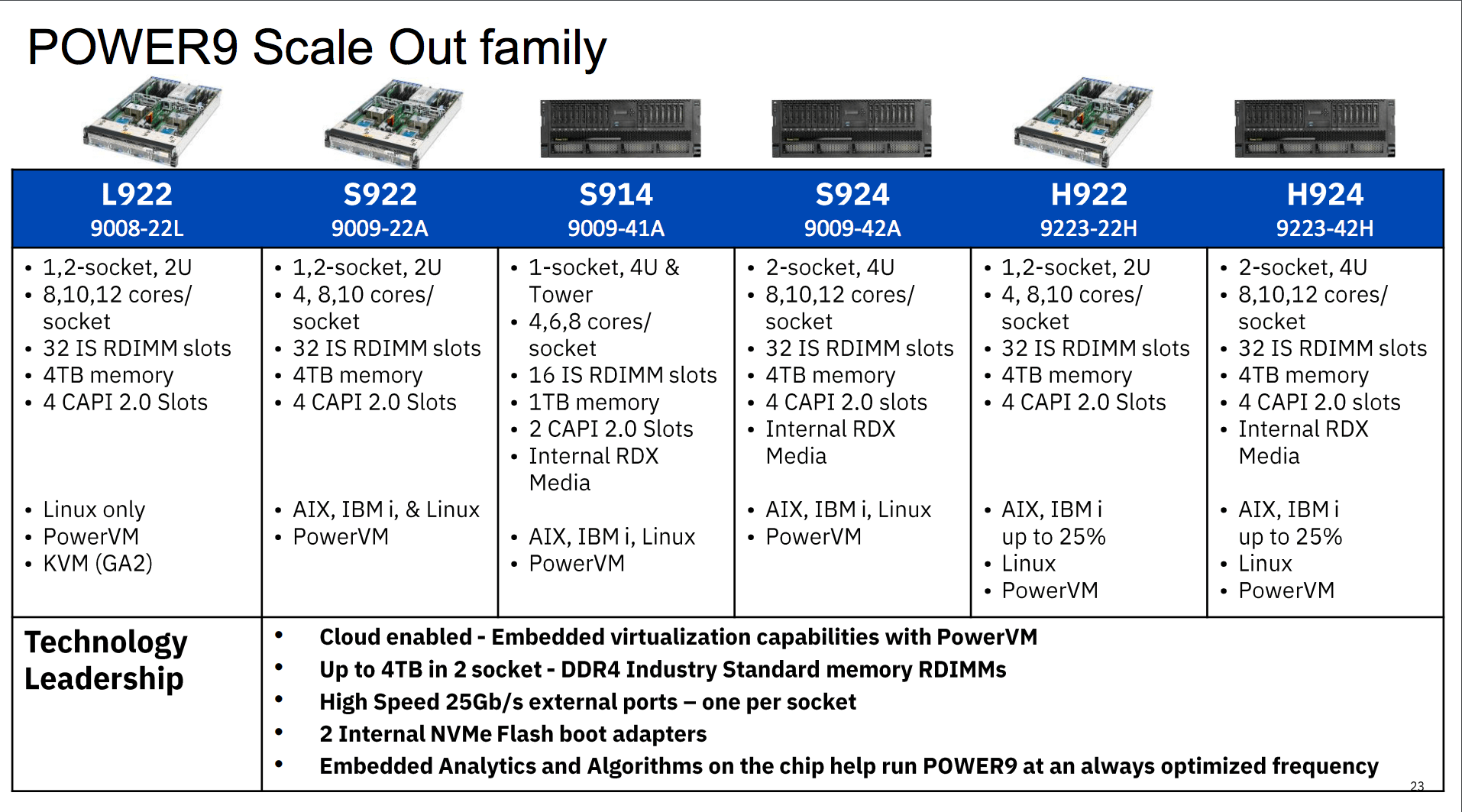 POWER9 has transitioned away from the larger, and more expensive, buffered memory to industry standard DDR4 DIMMs. Due to the increasing costs of memory, this is a much welcome change, especially considering that industry-standard memory is substantially cheaper (20-40% in most cases).
Quick note: IBM only supports systems that use official memory DIMMs.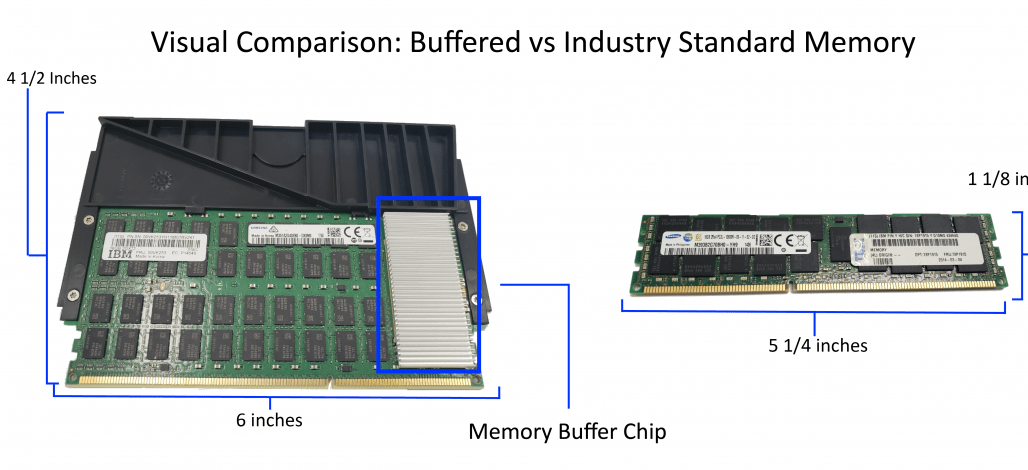 (Image: POWER8 Buffered Memory 16GB DIMM vs Industry Standard 16GB DIMM)
This change also brings with it substantially increased memory capacity per socket compared with previous-generation servers with up to 4TB (2TB per socket) on the 2 socket S922 & S924 servers and up to 1TB on the single socket S914.
In addition, as of July 10th, IBM has also released a brand new 8GB memory feature and is the new smallest single unit of memory available. The introduction of the 8GB feature allows a user to get the most memory bandwidth out of their machine for a lower price. For a more in-depth look at these changes check out this article.
So with POWER9, you now have two options for scaling memory:
Scale Out: You have 8 direct DDR4 ports to attach new memory subsystems. This option is easier-to-execute, offers lower latency and is more cost-effective.

Scale Up using 8 buffered channels. In this case, you can scale your system to 230 GB/s of memory bandwidth – something enterprises may want to consider.
Power9 CPU
The new POWER9 processor comes with some new features such as dynamic performance mode being enabled by default, a 90%+ increase in fabric bandwidth, CAPI 2.0 & PCIe Gen4 compatibility, and offers up to 24 cores per socket.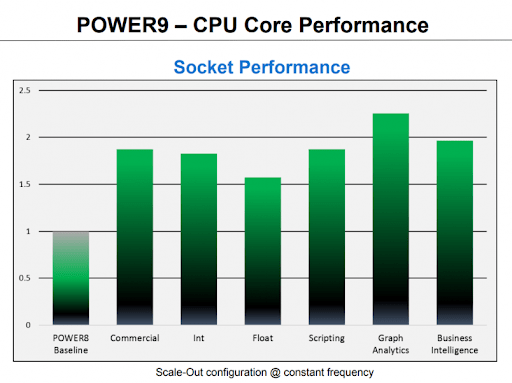 Dynamic performance mode allows the new POWER9 processors to be set to allow the processor frequency to be adjusted in real-time based on current CPU utilization and other environmental conditions. This feature is enabled by default on new POWER9 systems to help promote energy savings by lowering the power draw of the processors when the maximum frequency is not needed and by reducing cooling costs.
The maximum number of cores possible with POWER9 has doubled to 24 per socket and the fabric bandwidth has also nearly doubled from 38.4GB/s to 74GB/s. This upgraded speed isn't wasted either, as POWER9 also comes with PCIe GEN4 that supports up to 80GB/s which gives CAPI 2.0 connections up to 4 times the previous maximum bandwidth available on POWER8.
Competitive Advantage of POWER9: Integrated PowerVM
POWER9 (S and H model) come pre-furnished with PowerVM Enterprise Edition – the robust, feature-rich version of the Power Systems virtualization layer. In short, this technology allows you to securely virtualize every workload running on the server.
PowerVM Enterprise Edition also comes with several advanced features including:
Live partition mobility: enables users to move running workloads from one server to another without disrupting any operations.

Active memory sharing lets you configure different partitions to share system memory. The hypervisor will then automatically distribute memory from the shared pool for optimal performance.

Remote restart – as the name implies, PowerVM remote restart feature enables you to restart a VM on another machine when a POWER system fails.
Compared to predecessors, POWER9 servers are fully cloud-ready and capable of effectively supporting hybrid cloud architecture.
Competitive Advantage of POWER9: Big Data and AI Support
In IBM words: "POWER9 processor was built specifically for enterprise AI". As mentioned earlier, POWER9 systems incorporate a cutting-edge I/O subsystem technology consisting of IBM OpenCAPI, PCIe Gen4 and Nvidia NVLink 2.0. These elements combined supercharge POWER9 memory bandwidth and performance speed, enabling users to run sophisticated, resource-heavy ML and DL workloads with high stability and at top speed.
At the moment, they offer two POWER9 Server models to support enterprise AI – LC922 and AC922.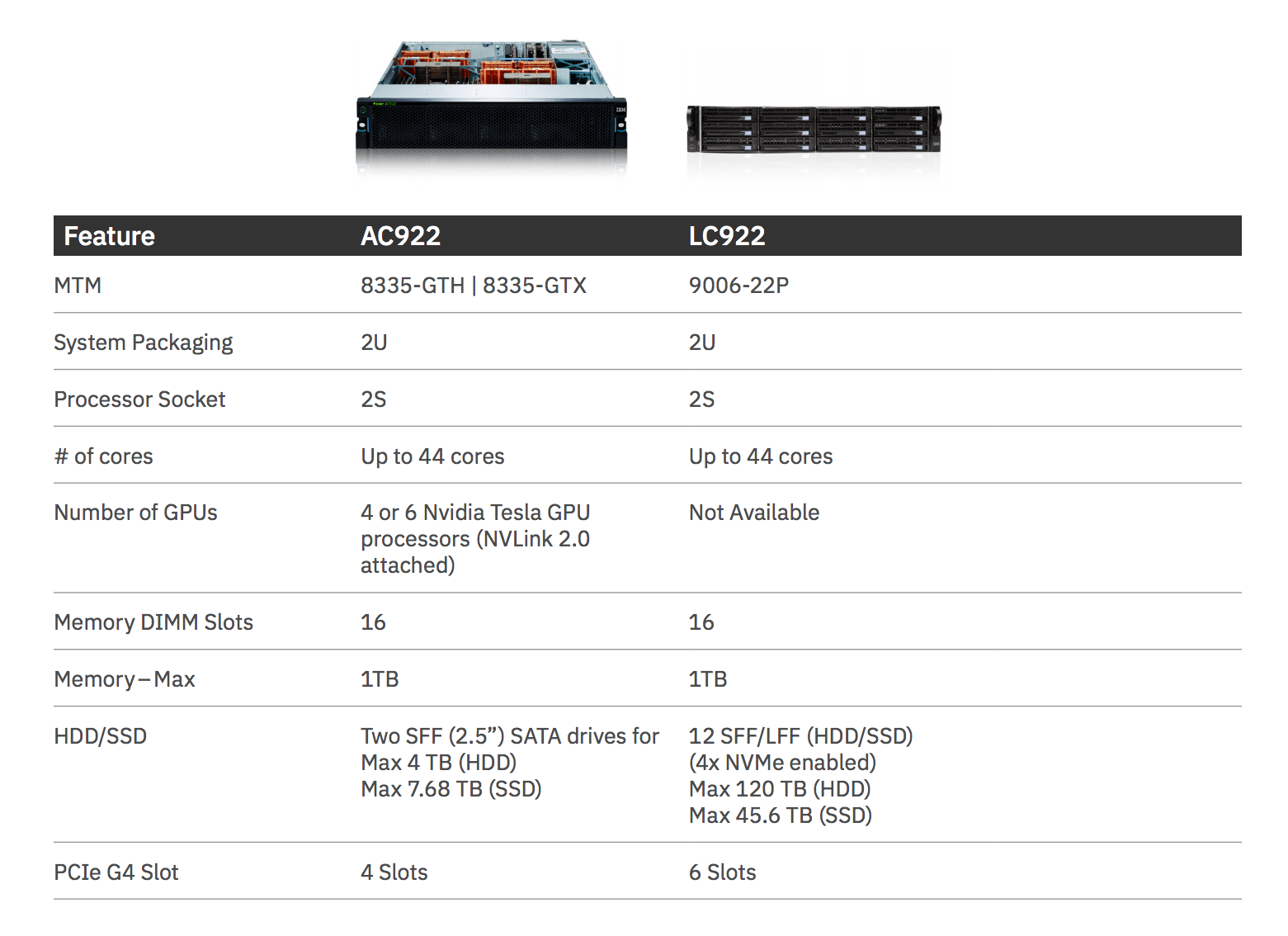 Source: IBM
LC922 server comes with top-notch I/O, powered by PCIe Gen 4 and can achieve up to 3.9x price/performance with popular databases.
AC922 is positioned as a solid choice for running IBM Watson ML accelerator software. The company claims that this combo accelerates training for Caffe by 3.7x and speeds up ML interactions with SnapML by 46x.
Another case study from Vision Banco shows how the company managed to improve its core offering (AI-driven credit scoring and lending) after upgrading from legacy x86 infrastructure to AC922. The time to create a new data model reduced from 2-7 days to a mere 2 hours. Faster data analytics allowed them to pitch more personalized offers to customers in near real-time and improve their revenues.
POWER8 vs. POWER9 – Total Cost of Ownership Compared
As far as pricing and maintenance costs go, there is nothing but good news. The pricing structure for POWER9 systems is based on the same structure as POWER8: the upfront investment for a POWER9 system will be similar to one for a POWER8 configuration from the past years.
As for maintenance, since IBM bases its annual maintenance renewal fees off a tiered system, as long as the new POWER9 system is in the same tier as older POWER8 Systems the costs will be roughly the same.
The cost savings are in the finer, details, however. We crunched some data for you and here's a quick breakdown of the estimated YoY savings if you plan to upgrade from POWER8 8202-E4D model to POWER9 9009-41A:

As you can see, you are gaining a solid boost in total DASD and memory volumes, plus CPW. On top of that, you'll save over $5,000 in maintenance costs (software and hardware) over the next five years: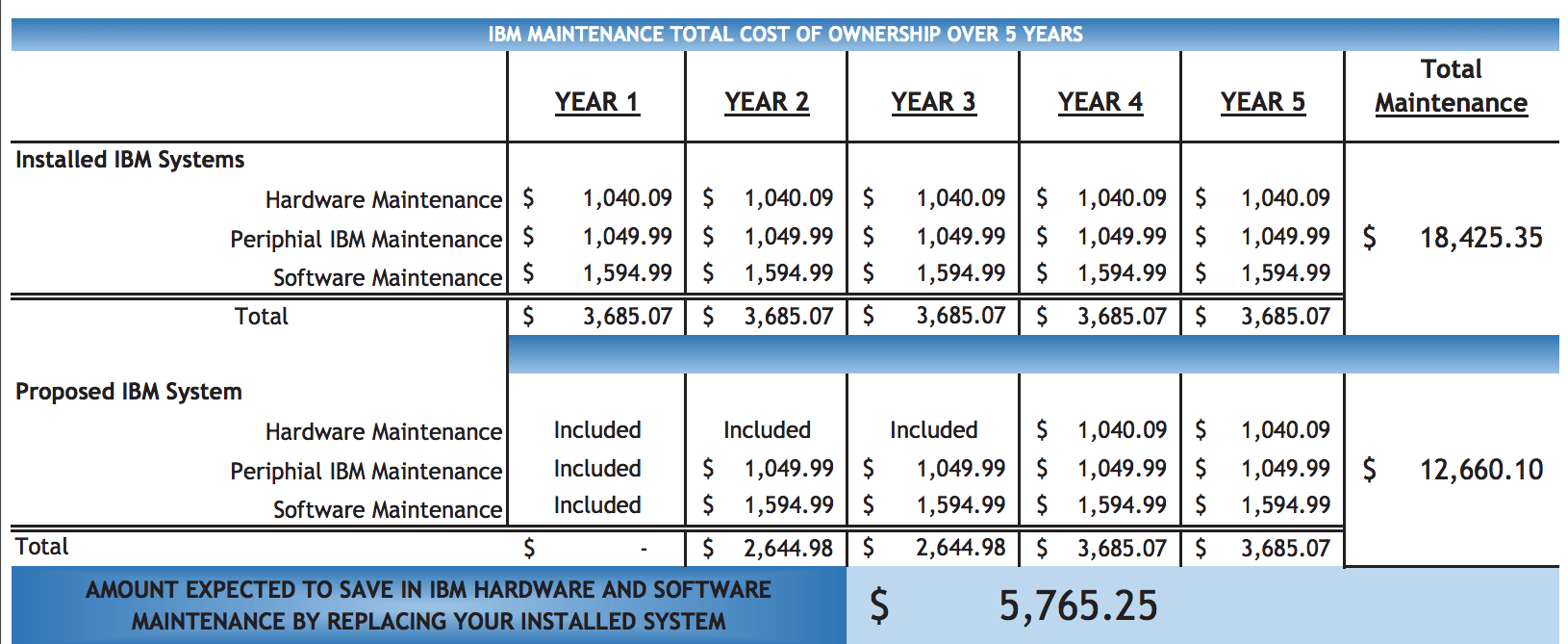 This means that for a lower yearly cost, a POWER9 system will offer better performance, lower energy costs with dynamic performance mode, and the benefit of the longer lifespan of more up to date hardware.
But wait, there are several more good reasons to update your legacy POWER hardware to the latest version.
Why Upgrade to POWER9 in 2020
POWER9 is a major step forward infrastructure-wise for any company planning for the future ahead. It's the first fully cloud-ready offering that can serve as a strong and secure backbone for a multi-cloud strategy. Seamless integration with IBM Watson and unparalleled speed also make POWER9 a strong contender for businesses ready to explore new AI use cases. The performance and TCO savings alone can make a compelling case for migration, especially from an earlier POWER7 system.
Lastly, let's not forget that timely hardware upgrades are essential to keep up with the software changes. IBM i 7.1 for POWER6 has already been discontinued and IBM i 7.2 end of support comes in April 2020 (mark the calendar and be sure to upgrade before that!). Do mind, however, that IBM i 7.3 is supported on POWER7/7+ servers only.
The latest OS release, IBM i 7.4, is only available for POWER 8 and POWER9 systems. You'll miss out on a lot of neat functionality if you fail to upgrade promptly.
This email address is being protected from spambots. You need JavaScript enabled to view it.
So is worth to upgrade to POWER9? The data says it does. If you are ready to make the more, here is everything you need to know when planning on upgrading to a POWER9 Server!