IBM i 9009-42A Power9 S924 iSeries System Upgrades EP1E EP1F EP1G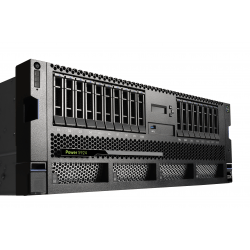 IBM Power9 9009-42A S924 - Cloud enabled with integrated Virtualization
The IBM S924 Power9 scale-out family is the first set of entry servers that is completely cloud enabled out of the box with integrated PowerVM Enterprise capabilities for IBM i and AIX workloads. IBM's Power9 on-chip analytics and algorithms enable workloads run at optimized processor frequency for performance and throughput. The 9009-42A Power9 processors have a DDR4 memory footprint of 4 TB, providing unmatched memory scaling and core to memory ratio needed for data-centric and in-memory workloads. Live Partition Mobility capabilities are built into the Power9 servers to cloud-enable your infrastructure and help you migrate from previous Power Systems. The Power9 S924 also has the option of a temporary PowerVM license to support older applications being moved to your new 9009-42A.
IBM Power9 9009-42A Processors:
IBM 9009-42A EP1E 8-Core 4.0GHz Processor, 145,500 (268,500 with 2 Processors) CPW MAX, P20 Group
IBM 9009-42A EP1F 10-Core 4.0GHz Processor, 174,500 (318,000 with 2 Processors) CPW MAX, P20 Group
IBM 9009-42A EP1G 2x 12-Core 4.0GHz Processors, 370,000 CPW MAX, P20 Group  
The IBM Power9 S924 supports a maximum of 32 DDR4 Main Storage DIMM slots for 16 GB, 32 GB, 64 GB, and 128 GB for a maximum of 4096 GB of Power9 memory and 12 or 18 SFF SAS Bay options for internal Power9 Disk Drives or or SDD.
9009-42A Datasheet   -   POWER9 Benchmarks & Quick Reference Sheets - Upgrading to POWER9 Checklist
 Learn about the differences between POWER8 and POWER9 Systems here.

---