iSeries IBM 9406, #2778 PCI RAID Disk Drive / DASD CTLR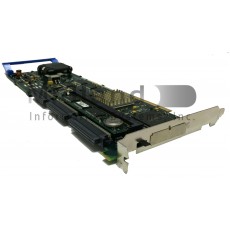 (#2778) PCI RAID Disk Unit Controller
(Only available as REFURBISHED as of October 1, 2004)
The #2778 is Ultra2 SCSI capable when installed in a #5065, Storage/PCI Expansion Tower or #5066, 1.8m I/O Tower.
#2778 has a maximum compressed cache size of 104MB which provides RAID-5 protection and compression for internal disk units. In addition to providing RAID-5 protection for disks, #2778 is also designed to work as a high performance controller for disks protected by system mirroring or disks with no protection.
#2778 controller supports a maximum of 15 drives. A minimum of four drives of the same capacity are needed for a valid RAID 5 configuration. A maximum of three arrays are allowed per controller, with a maximum of ten drives allowed per array. All drives in an array must be of the same capacity.
#2778 also supports #4331/#6831, 1.6GB Read Cache Device, which provides increased performance. Larger read cache is supported only when #2778 is NOT in compression mode.
The #2778 also supports combinations of CD-ROM and internal tape units. When placed in a #5065 Storage/PCI Expansion Tower or #5066 1.8m I/O Tower, the #2778 can support up to two tape units and CD-ROMs, in any combination.
#2778 supports both compression and non-compression modes. The mode of operation is determined by a hardware jumper. #2778 is shipped with the jumper set for non-compression mode. By moving the jumper, the controller will function in compression mode.
Prerequisites: #503X Migration Tower 1, #5064/#9364, or #5065/#5066 Tower with an available slot under a base or feature #2824 controller. High-Speed PCI card slots required: One. OS/400 V5R1, or later, is required.
Supported on the following systems: 600, 620, 640, 650, 720, 730, 740, 810, 820, 825, 830, 840, 870, 890
There are no reviews for this product.