IBM HMC Model Specifications and Comparisons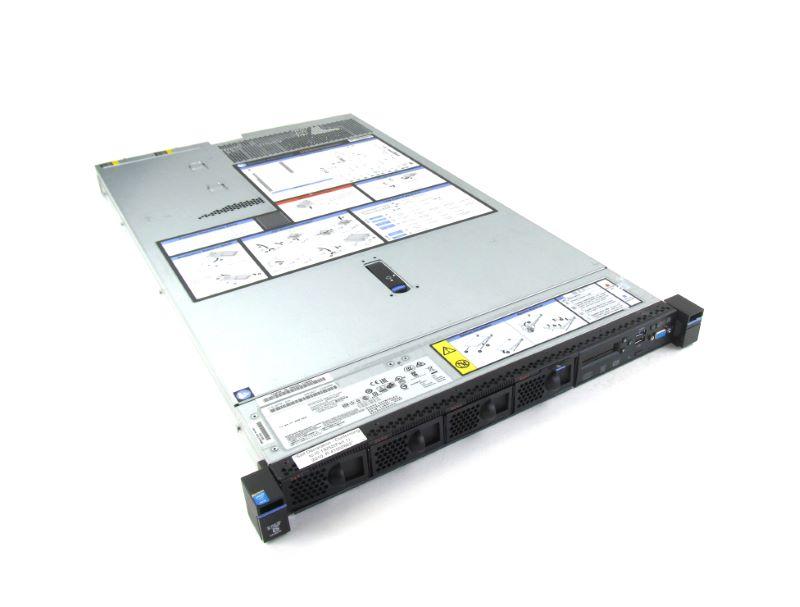 The IBM Hardware Management Console (HMC) is a virtual hardware appliance used to manage and monitor IBM i, AIX and Linux server workloads running on Power9, Power8, Power7, Power6 and Power5 Systems. The IBM HMC uses built in terminal emulation software to connect and control Power system resources, services, virtualization features and order Capacity Upgrade on Demand. The IBM HMC can consolidate the monitoring and management of all Power systems in a company's infrastructure that is supported by the HCM code. Every HCM model supports different Power system models based on the version of HMC code. For instance, the latest HCM models 7063-CR1, 7042-CR9, CR8, CR7, OE1 and OE2 all support Power9, Power8 and Power7 systems when running V9R1 HMC code, but not do not support IBM Power6 system models. If same the HMC has V8.8.7 code installed (which does not support Power9 system models), the HCM can also connect and manage Power6 systems.
Similar to the HMC virtual hardware appliance, customers may choose to use HMC functions on a PowerVM-based environment running on a PowerLinux LPAR and using PowerVM NovaLink software. The IBM HMC hardware appliance and the PowerVM NovaLink features function the same as the HMC appliance. The PowerVM NovaLink uses a cloud architecture, that provides a direct OpenStack connection to a PowerVM server running on a PowerLinux partition.
IBM provides upgrades for HMC code for each model, which can be downloaded from IBM Fix Central. The latest IBM HMC appliance model specifications and comparisons are provided in the below chart, and should be considered before upgrading your IBM Power system or purchasing a HMC.
IBM HMC Model Specifications and Comparisons (in Newest to Oldest order)
| | | | | | | | | | | |
| --- | --- | --- | --- | --- | --- | --- | --- | --- | --- | --- |
| HMC Model | HMC Code | Power Generation | Processor | Memory | Disk Space | Ethernet | USB | PCI-X | PCIe | PCI |
| 7063-CR1 | V9R1 M9xx | Power9, 8 & 7 | 2.095 GHz | 32 GB | 4 TB | 5 | 4 | | | |
| 7063-CR1 | V8.8.7 | Power8, 7 & 6 | | | | | | | | |
| 7042-OE2 | V9R1 M9xx | Power9, 8 & 7 | | | | | | | | |
| 7042-OE2 | V8.8.7 | Power8, 7 & 6 | | | | | | | | |
| 7042-OE1 | V9R1 M9xx | Power9, 8 & 7 | | | | | | | | |
| 7042-OE1 | V8.8.7 | Power8, 7 & 6 | | | | | | | | |
| 7042-CR9 | V8.8.7 | Power9, 8 & 7 | 2.4 GHz | 16 GB | .5 TB or 1 TB | 4 | 6 | | 1 | |
| 7042-CR9 | V8.8.7 | Power8, 7 & 6 | | | | | | | | |
| 7042-CR9 | V8.8.6 | Power8, 7 & 6 | | | | | | | | |
| 7042-CR9 | V8.8.5 | Power8, 7 & 6 | | | | | | | | |
| 7042-CR9 | V8.8.4 | Power8, 7 & 6 | | | | | | | | |
| 7042-CR8 | V9R1 M9xx | Power9, 8 & 7 | 2 GHz | 8 GB | 500 GB | 4 | 6 | 1 | 1 | |
| 7042-CR8 | V8.8.7 | Power8, 7 & 6 | | | | | | | | |
| 7042-CR8 | V8.8.6 | Power8, 7 & 6 | | | | | | | | |
| 7042-CR8 | V8.8.5 | Power8, 7 & 6 | | | | | | | | |
| 7042-CR8 | V8.8.4 | Power8, 7 & 6 | | | | | | | | |
| 7042-CR8 | V8.8.3 | Power8, 7 & 6 | | | | | | | | |
| 7042-CR8 | V8.8.2 | Power8, 7 & 6 | | | | | | | | |
| 7042-CR8 | V8.8.1 | Power8, 7 & 6 | | | | | | | | |
| 7042-CR7 | V9R1 M9xx | Power9, 8 & 7 | 2.53 GHz | 8 GB | 500 GB | 4 | 4 | 1 | 1 | |
| 7042-CR7 | V8.8.7 | Power8, 7 & 6 | | | | | | | | |
| 7042-CR7 | V8.8.6 | Power8, 7 & 6 | | | | | | | | |
| 7042-CR7 | V8.8.5 | Power8, 7 & 6 | | | | | | | | |
| 7042-CR7 | V8.8.4 | Power8, 7 & 6 | | | | | | | | |
| 7042-CR7 | V8.8.3 | Power8, 7 & 6 | | | | | | | | |
| 7042-CR7 | V8.8.2 | Power8, 7 & 6 | | | | | | | | |
| 7042-CR7 | V8.8.1 | Power8, 7 & 6 | | | | | | | | |
| 7042-CR7 | V7.7.9 | Power7, 6 & 5 | | | | | | | | |
| 7042-CR7 | V7.7.8 | Power7, 6 & 5 | | | | | | | | |
| 7042-CR7 | V7.7.7 | Power7, 6 & 5 | | | | | | | | |
| 7042-CR7 | V7.7.6 | Power7, 6 & 5 | | | | | | | | |
| 7042-CR6 | V8.8.6 | Power8, 7 & 6 | 2.5 GHz | 4 GB | 500 GB | 4 | 4 | 1 | 1 | |
| 7042-CR6 | V8.8.5 | Power8, 7 & 6 | | | | | | | | |
| 7042-CR6 | V8.8.4 | Power8, 7 & 6 | | | | | | | | |
| 7042-CR6 | V8.8.3 | Power8, 7 & 6 | | | | | | | | |
| 7042-CR6 | V8.8.2 | Power8, 7 & 6 | | | | | | | | |
| 7042-CR6 | V8.8.1 | Power8, 7 & 6 | | | | | | | | |
| 7042-CR6 | V7.7.9 | Power7, 6 & 5 | | | | | | | | |
| 7042-CR6 | V7.7.8 | Power7, 6 & 5 | | | | | | | | |
| 7042-CR6 | V7.7.7 | Power7, 6 & 5 | | | | | | | | |
| 7042-CR6 | V7.7.6 | Power7, 6 & 5 | | | | | | | | |
| 7042-CR6 | V7.7.5 | Power7, 6 & 5 | | | | | | | | |
| 7042-CR6 | V7.7.4 | Power7, 6 & 5 | | | | | | | | |
| 7042-CR6 | V7.7.3 | Power7, 6 & 5 | | | | | | | | |
| 7042-CR6 | V7.7.2 | Power7, 6 & 5 | | | | | | | | |
| 7042-CR5 | V8.8.6 | Power8, 7 & 6 | 2.4 GHz | 4 GB | 300 GB | 4 | 4 | 1 | 1 | |
| 7042-CR5 | V8.8.5 | Power8, 7 & 6 | | | | | | | | |
| 7042-CR5 | V8.8.4 | Power8, 7 & 6 | | | | | | | | |
| 7042-CR5 | V8.8.3 | Power8, 7 & 6 | | | | | | | | |
| 7042-CR5 | V8.8.2 | Power8, 7 & 6 | | | | | | | | |
| 7042-CR5 | V8.8.1 | Power8, 7 & 6 | | | | | | | | |
| 7042-CR5 | V7.7.9 | Power7, 6 & 5 | | | | | | | | |
| 7042-CR5 | V7.7.8 | Power7, 6 & 5 | | | | | | | | |
| 7042-CR5 | V7.7.7 | Power7, 6 & 5 | | | | | | | | |
| 7042-CR5 | V7.7.6 | Power7, 6 & 5 | | | | | | | | |
| 7042-CR5 | V7.7.5 | Power7, 6 & 5 | | | | | | | | |
| 7042-CR5 | V7.7.4 | Power7, 6 & 5 | | | | | | | | |
| 7042-CR5 | V7.7.3 | Power7, 6 & 5 | | | | | | | | |
| 7042-CR5 | V7.7.2 | Power7, 6 & 5 | | | | | | | | |
| 7042-CR5 | V7.7.1 | Power7, 6 & 5 | | | | | | | | |
| 7042-CR5 | V7.3.5 | Power6 & 5 | | | | | | | | |
| 7042-C08 | V8.8.6 | Power8, 7 & 6 | 2.53 GHz | 4 GB | 250 GB | 2 | 7 | 2 | 3 | |
| 7042-C08 | V8.8.5 | Power8, 7 & 6 | | | | | | | | |
| 7042-C08 | V8.8.4 | Power8, 7 & 6 | | | | | | | | |
| 7042-C08 | V8.8.3 | Power8, 7 & 6 | | | | | | | | |
| 7042-C08 | V8.8.2 | Power8, 7 & 6 | | | | | | | | |
| 7042-C08 | V8.8.1 | Power8, 7 & 6 | | | | | | | | |
| 7042-C08 | V7.7.9 | Power7, 6 & 5 | | | | | | | | |
| 7042-C08 | V7.7.8 | Power7, 6 & 5 | | | | | | | | |
| 7042-C08 | V7.7.7 | Power7, 6 & 5 | | | | | | | | |
| 7042-C08 | V7.7.6 | Power7, 6 & 5 | | | | | | | | |
| 7042-C08 | V7.7.5 | Power7, 6 & 5 | | | | | | | | |
| 7042-C08 | V7.7.4 | Power7, 6 & 5 | | | | | | | | |
| 7042-C08 | V7.7.3 | Power7, 6 & 5 | | | | | | | | |
| 7042-C08 | V7.7.2 | Power7, 6 & 5 | | | | | | | | |
| 7042-C08 | V7.7.1 | Power7, 6 & 5 | | | | | | | | |
| 7042-C07 | V7.7.9 | Power7, 6 & 5 | 3 GHz | 1 GB | 160 GB | 1 | 6 | | 1 | 2 |
| 7042-C07 | V7.7.8 | Power7, 6 & 5 | | | | | | | | |
| 7042-C07 | V7.7.7 | Power7, 6 & 5 | | | | | | | | |
| 7042-C07 | V7.7.6 | Power7, 6 & 5 | | | | | | | | |
| 7042-C07 | V7.7.5 | Power7, 6 & 5 | | | | | | | | |
| 7042-C07 | V7.7.4 | Power7, 6 & 5 | | | | | | | | |
| 7042-C07 | V7.7.3 | Power7, 6 & 5 | | | | | | | | |
| 7042-C07 | V7.7.2 | Power7, 6 & 5 | | | | | | | | |
| 7042-C07 | V7.7.1 | Power7, 6 & 5 | | | | | | | | |
| 7042-C07 | V7.3.5 | Power6 & 5 | | | | | | | | |
| 7042-C07 | V7.3.4 | Power6 & 5 | | | | | | | | |
| 7042-C07 | V7.3.3 | Power6 & 5 | | | | | | | | |
| 7042-C06 | V7.7.9 | Power7, 6 & 5 | 2.13 GHz | 1 GB | 80 GB | 1 | 6 | | | 3 |
| 7042-C06 | V7.7.8 | Power7, 6 & 5 | | | | | | | | |
| 7042-C06 | V7.7.7 | Power7, 6 & 5 | | | | | | | | |
| 7042-C06 | V7.7.6 | Power7, 6 & 5 | | | | | | | | |
| 7042-C06 | V7.7.5 | Power7, 6 & 5 | | | | | | | | |
| 7042-C06 | V7.7.4 | Power7, 6 & 5 | | | | | | | | |
| 7042-C06 | V7.7.3 | Power7, 6 & 5 | | | | | | | | |
| 7042-C06 | V7.7.2 | Power7, 6 & 5 | | | | | | | | |
| 7042-C06 | V7.7.1 | Power7, 6 & 5 | | | | | | | | |
| 7042-C06 | V7.3.5 | Power6 & 5 | | | | | | | | |
| 7042-C06 | V7.3.4 | Power6 & 5 | | | | | | | | |
| 7042-C06 | V7.3.3 | Power6 & 5 | | | | | | | | |
| 7042-C06 | V7.3.2 | Power6 & 5 | | | | | | | | |
| 7042-C06 | V7.3.1 | Power6 & 5 | | | | | | | | |
| 7310-C05 | V7.7.9 | Power7, 6 & 5 | 3.2 GHz | 1 GB | 80 GB | 1 | 4 | | | 6 |
| 7310-C05 | V7.7.8 | Power7, 6 & 5 | | | | | | | | |
| 7310-C05 | V7.7.7 | Power7, 6 & 5 | | | | | | | | |
| 7310-C05 | V7.7.6 | Power7, 6 & 5 | | | | | | | | |
| 7310-C05 | V7.7.5 | Power7, 6 & 5 | | | | | | | | |
| 7310-C05 | V7.7.4 | Power7, 6 & 5 | | | | | | | | |
| 7310-C05 | V7.7.3 | Power7, 6 & 5 | | | | | | | | |
| 7310-C05 | V7.7.2 | Power7, 6 & 5 | | | | | | | | |
| 7310-C05 | V7.7.1 | Power7, 6 & 5 | | | | | | | | |
| 7310-C05 | V7.3.5 | Power6 & 5 | | | | | | | | |
| 7310-C05 | V7.3.4 | Power6 & 5 | | | | | | | | |
| 7310-C05 | V7.3.3 | Power6 & 5 | | | | | | | | |
| 7310-C05 | V7.3.2 | Power6 & 5 | | | | | | | | |
| 7310-C05 | V7.3.1 | Power6 & 5 | | | | | | | | |
| 7310-C05 | V6.1.3 & ealier | Power5 | | | | | | | | |
| 7310-C04 | V7.7.9 | Power7, 6 & 5 | 3.2 GHz | 1 GB | 40 GB | 1 | 6 | | 2 | 2 |
| 7310-C04 | V7.7.8 | Power7, 6 & 5 | | | | | | | | |
| 7310-C04 | V7.7.7 | Power7, 6 & 5 | | | | | | | | |
| 7310-C04 | V7.7.6 | Power7, 6 & 5 | | | | | | | | |
| 7310-C04 | V7.7.5 | Power7, 6 & 5 | | | | | | | | |
| 7310-C04 | V7.7.4 | Power7, 6 & 5 | | | | | | | | |
| 7310-C04 | V7.7.3 | Power7, 6 & 5 | | | | | | | | |
| 7310-C04 | V7.7.2 | Power7, 6 & 5 | | | | | | | | |
| 7310-C04 | V7.7.1 | Power7, 6 & 5 | | | | | | | | |
| 7310-C04 | V7.3.5 | Power6 & 5 | | | | | | | | |
| 7310-C04 | V7.3.4 | Power6 & 5 | | | | | | | | |
| 7310-C04 | V7.3.3 | Power6 & 5 | | | | | | | | |
| 7310-C04 | V7.3.2 | Power6 & 5 | | | | | | | | |
| 7310-C04 | V7.3.1 | Power6 & 5 | | | | | | | | |
| 7310-C04 | V6.1.3 & ealier | Power5 | | | | | | | | |
By accepting you will be accessing a service provided by a third-party external to https://www.midlandinfosys.com/