9009-22A IBM iSeries POWER9 S922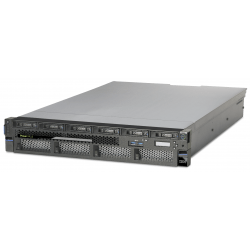 "The new S922 – Large memory footprint of up to 4 TB in a dense form factor delivering highest security and reliability now Cloud enabled with integrated Virtualization capabilities"
Available Models:
IBM 9009-22A EP16 4-Core 3.8GHz Processor  AIX/ Linux Only rPerf 89.8
IBM 9009-22A EP18 8-Core 3.9GHz Processor  68,000 - 272,000 with 2 Processors CPW, P10 Software Tier
IBM 9009-22A EP19 10-Core 3.8GHz Processor  60,000 - 300,000 with 2 Processors CPW, P10 Software Tier

The POWER9 S922 server supports two processor sockets, offering 10-core/20-core, 8-core/16-core, or 4-core POWER9 configurations in a 19-inch rack-mount, 2U (EIA units) drawer configuration. The POWER9 S922 server supports a maximum of 32 DDR4 DIMM slots. Memory features supported are 8GB, 16 GB, 32 GB, 64 GB, and 128 GB, and run at different speeds of 2133, 2400, and 2666 Mbps, offering a maximum system memory of 4096 GB. 
IBM Power S922 and IBM i
IBM i support is provided at a price-attractive P10 software tier even though the S922 has two sockets. However, there are limitations to the maximum size of the partition, and all I/O must be virtualized through VIOS. Up to four cores (real or virtual) per IBM i partition are supported. Multiple IBM i partitions can be created and run concurrently, and each individual partition can have up to four cores
IBM i QPRCRFEAT values are the same numeric value as the processor feature code. IBM i does not support the 4-core processor feature EP16
The 8-core processor (#EP18, QPRCRFEAT EP18) is IBM i SW tier P10.
The 10-core processor (#EP19, QPRCRFEAT EP19) is IBM i SW tier P10. 
9009-22A Datasheet    POWER9 Benchmarks & Quick Reference Sheets    Upgrading to POWER9 Checklist
 Considering an upgrade from POWER8? Learn about the differences between POWER8 and POWER9 Systems here.

 Other POWER9 Server Products: IBM POWER9 S914 & IBM POWER9 S924
---