VTL Virtual Tape Library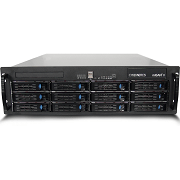 VTL backup appliance (D2D2T) devices are ideal solutions to shrink backup windows. Virtual Tape Library disk based backups are significantly faster than tape. Review the VTL Virtual Tape Libary Comparison chart to see how Cybernetics VTL backup appliances compare to competiting devices. The fastest Cybernetics VTL backup appliance can deliver 4 GB/s transfer rates (ingesting backups up to 14 TB/hr), are capable of scaling to 192 disk drives (24 disks per VTL) for over 1 Petabyte of Virtual Tape Library storage. Cybernetics VTL devices are 100% compatible with all backup software and support almost any OS (including IBM iSeries), allowing consolidation of all host backups via a single VTL solution. iSAN and miSAN VTL's offer 2:1 compression, Post Process deduplication (50:1 typical), site-to-site replication for disaster recovery and encryption options. The Cybernetics Virtual Tape Library allows multiple concurrent backup jobs (16 parallel data streams) to independent logical libraries. Cybernetics VTL backup appliances offer more host and device interfaces than competitor Virtual Tape Library devices, including 1 & 10GbE iSCSI, SAS, 10Gb Ethernet, 8G or 16G Fiber Channel and legacy SCSI hosts & devices such as IBM iSeries systems. Offload VTL backups to tape drives or save in a new device/tape format. In comparison to other VTL solutions, the Cybernetics VTL backup appliance provide best in class features and performance for a very low price.
Cybernetic VTL devices are available in 100% pure SSD, SAS or a hybrid-mix of SSD & SAS, and include Entry miSAN-V SAS VTL models (up to 500 MB/s & 1.8 TB/hr), iSAN-V SAS VTL Models (1.2 GB/s & 4.2 TB/hr), iSAN-V2 SSD/SAS/Mixed VTL Models (1.5 GB/s & 7.2 TB/hr) and screaming fast iSAN-SSD VTL models (4 GB/s & 14 TB/hr).
Cybernetics provides unlimited Support via phone & email for the Lifetime of the VTL device life, includes a 2 yr Warranty (covering all parts & labor costs). Cybernetics provides optional Support plans including 24X7 support, advanced replacement and on-site support services.
Showing 1 to 14 of 14 (1 Pages)