IBM Power9 9009-22G S922 Servers Systems & Upgrades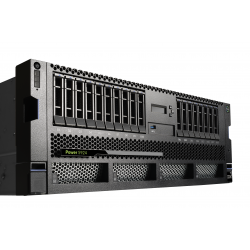 9009-22G S922 IBM Power9 Servers for IBM i AIX Vios Linux
The IBM 9009 Power S922 Model 22G server supports two processor sockets, offering 10-core or 20-core typical 2.9 to 3.8 GHz (max), or 8-core or 16-core typical 3.4 to 3.9 GHz (max), or 4-core typical 2.8 to 3.8 GHz (max) POWER9 configurations in a 19-inch rack-mount, 2U (EIA units) drawer configuration. All the cores are active. The Power S922 server supports a maximum of 32 DDR4 DIMM slots. Memory features supported are 16 GB, 32 GB, 64 GB, and 128 GB, and run at different speeds of 2133, 2400, and 2666 Mbps, offering a maximum system memory of 4096 GB.
Power S922 server also offers a 1-core processor configuration for clients running IBM i (up to 25 users) an entry server based on POWER9 technology. It uses a typical 2.8 to 3.8 GHz (max) POWER9 Processor Card (#EP5Y) with processor core activation feature (#EP6Y). The processor core must be activated.
The Power S922 (9009-22G) server is an updated version of the 22A with the following features:
Gain faster insights from your data with up to 4 TB of in-memory database capabilities for SAP HANA, IBM Db2, Oracle, and a variety of open-source databases.
Deliver superior price and performance for your mission-critical applications with room to scale in IBM AIX, IBM i, and Linux environments.
Prevent security threats with advanced security features combined with unmatched reliability and resiliency.
Harness the integrated virtualization capabilities of the server to rapidly deploy, optimize, and recover workloads.
Migrate from previous IBM Power Systems servers with Live Partition Mobility (LPM) capabilities. Every new Power S922 server comes with a temporary IBM PowerVM license for your old server to support a seamless move to IBM POWER9 technology-based servers.
Use this cloud-enabled server to build an agile, containerized cloud on a server platform that is optimized for data and cognitive services.
Extend IBM i, the integrated operating system, and connect to the cognitive capabilities of the IBM Cloud using secure APIs.
Twice more bandwidth for a seamless integration between on- premises and public clouds with a new back-end PCIe Gen4 switch.
Introducing Shared Utility Capacity for pay-per-use computing and multisystem resource sharing through IBM Power Enterprise Pools 2.0.
More NVMe adapters with ten PCIe Gen4 slots in the back plus four PCI Gen4-capable U.2 front-accessible drives.
Up to 89.6 TB of NVMe Enterprise Class Storage capacity.
New feature code enables a low-cost POWER9 server with one processor core activated for IBM i.
New cost-effective 800 GB data center PCIe Gen3 NVMe device supported for AIX, IBM VIOS, or Linux environments.
Boot from PCIe Gen4 NVMe devices supported for native IBM i deployments.
This email address is being protected from spambots. You need JavaScript enabled to view it.
---