8286-42A IBM S824 Power8 iSeries: System Processor Upgrades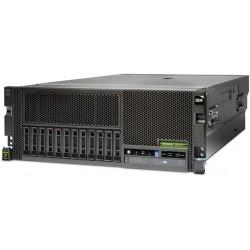 8286-42A IBM Power8 S824 iSeries system models are available in 6, 8, 12,16 and 24-core single or dual processor configurations for up to 230,500 CPW, has 16 DDR4 CDIMM memory slots for up to 4 TB of Power8 main storage, 18 disk slots for up to 35.4 TB of internal Power8 disk space and 18 hot swap PCIe slots. Go to 8286-42A iSeries product pages below for detailed S824 processor specifications and pricing, 8246-42A AIX systems, or 8286-41A to view P10 and P05 systems.
8286-42A EPXE One 6-Core 3.89 GHz Processor 72,000 CPW, P20
8286-42A EPXE Two 6-Core 3.89 GHz Processors 94,500 CPW, P20
8286-42A EPXF One 8-Core 4.15 GHz Processor 130,000 CPW, P20
8286-42A EPXF Two 8-Core 4.15 GHz Processors 173,500 CPW, P20
8286-42A EPXH Two 12-Core 3.52 Processors 230,500 CPW, P20
8286-42A Model S824 systems support IBM i, AIX and Linux workloads. Other IBM i Power8 models include: 8286-41A S814, 8284-22A S822, 8284-21A S812. All IBM iSeries systems and parts are IBM Certified and eligible for IBM i Maintenance contracts and include warranty.
8286-42A S824 Data Sheet  |  8286-42A S824 Technical Overview
---