8247-22L IBM Power8 Linux Servers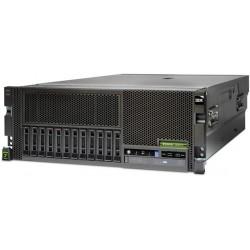 The IBM 8247 is optimized for Big Data and Analytics, and is a Power System S822L server is designed to provide the ideal foundation for scale-out data and cloud environments in a compact 2U package.
The IBM Power S822L (8247-22L) supports two processor sockets offering twenty 3.42 GHz or twenty-four 3.02 GHz POWER8 cores in a 19-inch rack-mount, 2U (EIA units) drawer configuration. All the cores are active. The Power S822L supports a maximum of 16 DDR3 CDIMM slots. Memory features supported are 32 GB, and 64 GB and run at 1600 MHz, allowing for a maximum system memory of 1024 GB.
The Power S822L (8247-22L) server is a powerful 2-socket server that ships with 20 or 24 fully activated cores and I/O configuration flexibility to meet today's growth and tomorrow's processing needs. 
All IBM iSeries systems and parts are IBM Certified and eligible for IBM i Maintenance Contracts. IBM i Banding can also be provided upon request. All our IBM i Series systems and parts include warranty.
---