8247-21L IBM Power8 Linux Servers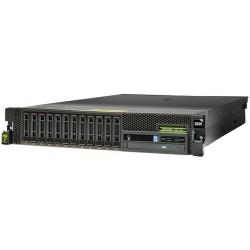 The 8247-21L IBM Power8 2U server for Linux Server workloads can be configured with ELPD 10-core 

3.42 GHz dual-chip processors 

or ELP3 12-core 3.02 GHz dual-chip processors, has 8 main storage slots for up to 512 GB of DDR4 memory, Hot-swap PCIe Gen 3 slots, two redundant hot-plug power supplies, supports up to 28 EXP24S HDD/SSD drawers (5887 or EL1S) for growing I/O requirements and many other flexible configuration options. The IBM 8247-21L Linux server is optimized for Big Data, Analytics, SIEM, Cloud and like scale-out applications. View the 8247-21L product pages for specifications, configuration options and performance attributes, or the 8247-21L SSD and HDD storage products here. 
All IBM Power systems, upgrades and parts sold are IBM Certified, eligible for IBM Maintenance Contracts, include warranty and phone or email support.
---