VTL Disk to Disk Backup Appliance V12T12 iSAN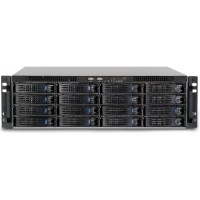 Brand:
VTL Backup Appliance
Model Number:
Cybernetics_V12T12
VTL disk to disk backup appliance solutions like Unitrends, ExaGrid, Data Domain, FalconStor and Quantum Storage can't compete with Cybernetics VTL backup appliances on price, performance, options, scalability or standard features. Cybernetics Virtual Tape Library appliances can simultaneously write data from any heterogeneous system to VTL disk using your existing backup software, including IBM iSeries systems. The V12T12 Cybernetics VTL disk backup appliance has 12 disk bays , delivers up to 1.2 GB/s transfer rates and can cut the biggest backup jobs into pieces (7.2 TB/hr). Backup restores from a Cybernetics VTL are lightning quick. Site-to-site Replication of Deduplicated VTL backups to another VTL are extremely fast and use minimum bandwidth. Powerful Deduplication of VTL data can fit 1 TB backups into 20GB of Virtual Tape Library space. Archive your backups from VTL to tape or other devices without involving your servers, users or network. Encrypt your Backup appliance disk, tape media and VTL Replication process for complete security. A Cybernetics backup appliance VTLs provides the ultimate value in performance, flexibility, options and security at a price competitors can't touch. Many Cybernetics VTL customers that had a 24+ hour tape backup, now only takes an hour to backup.
VTL Raw Capacity: 12 TB
VTL Capacity w/ Compression: 24 TB
Deduplication Ratio: 50:1 or higher (typical)
Transfer Rate: up to 1.2 GB/s
Cache: 12 GB
Connections: 10 GbE iSCSI, 1 Dual Port Mini-SAS (host or device), 1 SCSI (host or device). Optional 10GbE iSCSI and Fibre Channel ports
Virtual Tape Drives or Libraries: 16
Virtual Tapes: Unlimited
Offline archival support for tape drives/libraries (up to 4 drives/48 slots)
Disk Drive Bays: 12
This D2D2T VTL also includes:
WAN replication support
Cold Spare Disk
Hot Swap and Redundant Power Supplies and Disk Drives
Disk Drives: 3.0 GB/s Serial ATA II with NCQ and SMART
RAID Levels: 0, 1, 10, 5, 6, 60, 50 + Hot Spare
2 Year Express Depot Expedited Warranty Service
Phone and Email Support for Life of the Product
These are the base specs for the Cybernetics V12T12, iSAN Deduplication Virtual Tape Library (without expansion). All Cybernetics iSAN-V VTL's can be expanded with an additional 224 Terabytes for up to 256 TB "Maximum" Total Raw Capacity.
There are no reviews for this product.