16TB VTL - V16T16 iSAN 16 Drive Virtual Tape Library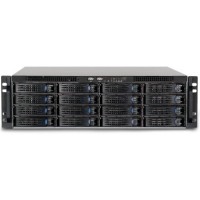 Brand:
VTL Backup Appliance
Model Number:
Cybernetics_V16T16
Raw Capacity: 16 TB
Capacity w/ Compression: 32 TB
Deduplication Ratio: 50: 1 or higher (typical)
Transfer Rate: up to 1.2 GB/s
Cache: 12 GB
Connections: 10 GbE iSCSI, 1 Dual Port Mini-SAS (host or device), 1 SCSI (host or device). Optional 10GbE iSCSI and Fibre Channel ports
Virtual Tape Drives or Libraries: 16
Virtual Tapes: Unlimited
Offline archival support for tape drives/libraries (up to 4 drives/48 slots)
Disk Drive Bays: 16
This D2D2T VTL also includes:

WAN replication support
Cold Spare Disk
Hot Swap and Redundant Power Supplies and Disk Drives
Disk Drives: 3.0 GB/s Serial ATA II with NCQ and SMART
RAID Levels: 0, 1, 10, 5, 6, 60, 50 + Hot Spare
2 Year Express Depot Expedited Warranty Service
Phone and Email Support for Life of the Product

These are the base specs for the Cybernetics V12T24, iSAN Deduplication Virtual Tape Library (without expansion). All Cybernetics VTL's can be expanded with an additional 224 Terabytes for up to 256 TB "Maximum" Total Raw Capacity. Additional information about this VTL is below:
There are no reviews for this product.