Enterprise Storage Area Network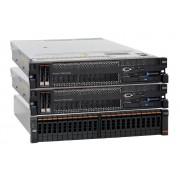 IBM SAN products and solutions provide integrated SMB and enterprise SAN solutions with multi-protocol local, campus, metropolitan and global storage networking.

Accommodate capacity growth with scale-out performance for both random-access and streaming file ..
Request Price Quote

The DS8700 includes IBM POWER6-based controllers. The IBM System Storage DS8800 is the most advanced..
Request Price Quote

IBM XIV is a high-end, grid-scale disk storage system that stands out for tuning-free high perf..
Request Price Quote
Showing 1 to 3 of 3 (1 Pages)