IBM iSeries Power8 8284-22A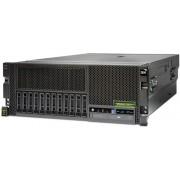 The IBM 8284 is a Power System S822 server that brings together business transaction processing with infrastructure for social and mobile solutions in UNIX and Linux operating environments. A 2-socket 2U system which can be ordered with the flexibility of either one or two processor sockets populated provides growth capacity for customers who need it. It provides the benefits of greater performance per core as well as per socket with POWER8 processors, new I/O capabilities, higher internal storage and PCIe capacities and performance, the capability to support CAPI accelerator devices, and greater RAS, including hot-plug PCIe capability.
The IBM 8284 Power System S822 Model 22A supports two processor sockets, offering 6-core or 12-core 3.89 GHz or 10-core or 20-core 3.42 GHz POWER8 configurations in a 19-inch rack-mount, 2U (EIA units) drawer configuration. All the cores are active. The Power S822 server supports a maximum of 16 DDR3 CDIMM slots. Memory features supported are 32 GB, and 64 GB and run at speeds of 1600 Mbps, allowing for a maximum system memory of 1024 GB.
The IBM Power System S822 server is a powerful 2-socket server that ships with up to 20 activated cores and I/O configuration flexibility to meet today's growth and tomorrow's processing needs.
All IBM iSeries systems and parts are IBM Certified and eligible for IBM i Maintenance Contracts. IBM i Banding can also be provided upon request. All our IBM i Series systems and parts include warranty.

IBM AIX 8284-22A-EPX1 Power8 6-Core is available in quantities of one or two.Attributes provi..
Request Price Quote

IBM AIX 8284-22A-EPXD Power8 10-Core Processor is available in quantities of one or two...
Request Price Quote

IBM AIX 8284-22A-EPXH Power8 12-Core Processor 130,000 CPW 12-core 3.525 GHz POWER8 pr..
Request Price Quote
Showing 1 to 3 of 3 (1 Pages)