8202-E4C Power7 720 Memory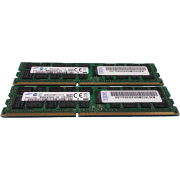 The iSeries 8202-E4C Power7 System has 16 DDR3 DIMM slots, 8 slots in system and 8 more with optional EM01 memory riser card. All 8202-E4C Memory features include two 1066 MHz iSeries memory DIMMs per feature in 4GB, 8GB, 16GB & 32GB sizes. A 8202-E4C system with the memory riser has a 256GB main storage capacity. The optional 4793 Active Memory Expansion feature allows the effective maximum memory capacity to increase memory expansion by 100%, providing an effective 512GB memory.
We also provide onsite IBM iSeries installation, upgrades, partitioning and data migration services. Some iSeries systems or features may only be available as refurbished or new. All iSeries Systems, iSeries Memory, iSeries Disk Drives and other iSeries features are IBM Certified and eligible for new or existing IBM maintenance contracts, and include a warranty.
A minimum 4 GB or two DIMMs of memory is required on the Power7 720 system. A system with the 4-core processor module (#EPC5) does not support the 16 GB memory feature EM16 or the 32 GB memory feature EM32. Maximum system memory with feature EPC5 is 32 GB without feature EM01 and 64 GB with feature EM01. The base machine contains one nonfeaturized memory riser card with eight DIMM sockets. Memory features consume two memory DIMM sockets. An optional memory riser card feature (#EM01) with an additional eight DIMM sockets is available. Maximum system memory is 128 GB without feature EM01 and 256 GB with feature EM01.
Showing 1 to 4 of 4 (1 Pages)