IBM Power6 E4A IOP xSeries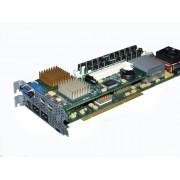 Midland's IBM System i Power7, Power6 & Power5 iSeries 8203-E4A IOP Integrated xSeries IXA Adapters, Systems, Processors, Disk Drives & Memory are IBM Certified and eligible for new or existing IBM Maintenance Contracts. View our AS400 systems page for older IBM 9406 models. All IBM Power Systems and parts include a limited warranty. Some iSeries parts may not be listed on our site, so please contact us with you inquiries. Our prices are very competitive on both new and refurbished iSeries features. Some items may only be available as new or refurbished. Please contact us for assistance if your not sure what you need or you need a workload analysis or sizing assistance.

The IBM Power6 8203-E4A (#2844) PCI IOP#2844 is a PCI I/O processor that drives PCI IOA adapters in ..

The IBM Power6 8203-E4A (#2847) PCI IOP for SAN Load SourceProvides the specialized function require..

The IBM Power6 8203-E4A (#3705) PCI IOP#3705 is a PCI I/O processor with 64MB of memory which drives..
Showing 1 to 3 of 3 (1 Pages)