IBM iSeries Power8 8284-22A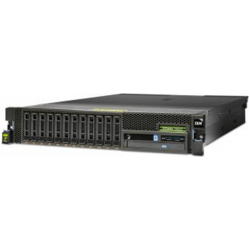 The IBM 8284 Power System S822 Model 22A supports two processor sockets, offering 6-core or 12-core 3.89 GHz or 10-core or 20-core 3.42 GHz POWER8 configurations in a 19-inch rack-mount, 2U (EIA units) drawer configuration. All the cores are active. The Power S822 server supports a maximum of 16 DDR3 CDIMM slots. Memory features supported are 32 GB, and 64 GB and run at speeds of 1600 Mbps, allowing for a maximum system memory of 1024 GB.
The IBM 8284 is a Power System S822 server that brings together business transaction processing with infrastructure for social and mobile solutions in UNIX and Linux operating environments. A 2-socket 2U system which can be ordered with the flexibility of either one or two processor sockets populated provides growth capacity for customers who need it. It provides the benefits of greater performance per core as well as per socket with POWER8 processors, new I/O capabilities, higher internal storage and PCIe capacities and performance, the capability to support CAPI accelerator devices, and greater RAS, including hot-plug PCIe capability.
The IBM Power System S822 server is a powerful 2-socket server that ships with up to 20 activated cores and I/O configuration flexibility to meet today's growth and tomorrow's processing needs. The server features:
The following fully activated IBM POWER8 dual-chip module (DCM) processor module configurations in a 2U rack-mount form factor:

6-core or 12-core 3.89 GHz
10-core or 20-core 3.42 GHz

 

Up to 1024 GB of memory

 

Choice of storage features:

Eight SFF-3 Bays/six 1.8-inch SSD bays/DVD Bay/Dual IOA with Write Cache
Twelve SFF-3 Bays/DVD Bay
Split feature to 6+6 SFF-3 Bays: Add a second SAS Controller

 

Expansion capabilities for the EXP24S SFF Gen 2-bay Drawer

 

Hot-swap PCIe Gen 3 slots

 

Integrated:

Service processor
EnergyScale technology
Hot-swap and redundant cooling
USB 3.0 and 2.0 ports
Two HMC ports
One system port with RJ45 connector

 

Two hot plug, redundant power supplies

 

19-inch rack-mounting hardware (2U)
 
---