iSeries IBM 9406, #2740 PCI RAID Disk Drive / DASD CTLR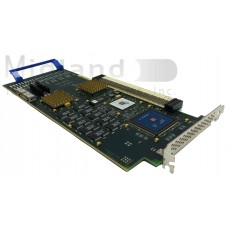 (#2740) PCI RAID Disk Unit Controller
(Only available as REFURBISHED as of May 31, 2001)
The #2740 is an Ultra SCSI disk and tape controller with a 4MB write- cache that provides RAID-5 protection for internal disk units. The #2740 also supports CD-ROM and internal tape units.
The #2740 is designed to control Ultra, Fast-Wide and Fast-Narrow SCSI disk and tape units that are installed in the base system unit. In addition to providing RAID-5 protection for disks, #2740 is also designed to work as a high-performance controller for disks protected by system mirroring or disks with no protection. In the RAID-5 configuration, disk unit protection is provided at less cost than mirroring, and with greater performance than system checksums.
The #2740 controller supports a maximum of ten drives. A minimum of four drives of the same capacity are needed for a valid RAID 5 configuration. A maximum of two arrays are allowed per controller, with a maximum of ten drives allowed per array. All drives in an array must be of the same capacity. Parity is spread across four drives for arrays of four to seven drives. Parity can be spread across either four or eight drives for arrays of eight to ten drives. For systems started with eight to ten drives in an array the parity, for that array, will be spread across eight drives. For systems that are started with less than eight drives in an array and later field upgraded to eight, nine, or ten drives the raid function must be stopped and then started before the parity will be spread across eight drives.
High-Speed PCI card slots required: One. Maximums: One in the 503X Migration Tower I.
Supported on the following systems: 170, 600, 620, 720, 820, 830, S10, S20
There are no reviews for this product.