4287-8203 - IBM Power6 E4A Memory Offering, 32GB (Multiples of 4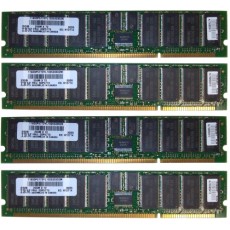 The IBM Power6 8203-E4A (#4287) Memory Offering, 32GB (Multiples of 4 of 2x4GB DIMMs)
(Available in Refurbished Condition Only as of October 24, 2008)
Each occurrence of this feature delivers 2 each 4GB Dimms for a total of 8GB of Memory (667 MHz, 1Gb DRAM). This is a special priced feature that can only be ordered in multiples of 4. The minimum result being 32 GB of memory in 8 (4GB) dimms. This feature must be ordered in quantities of 4. No other order quantities will be accepted.
Note: MES orders for feature number xxxx are available only for authorized IBM Business Partners certified for participation in the IBM Solution Delivery Integration (SDI) Program.
Attributes provided: Memory
Attributes required: DIMM slots
For 8203-E4A: The IBM Power6 8203-E4A (#4287)
Minimum required: 0
Maximum allowed: 4 (Initial order maximum: 4)
OS level required: AIX 5.3 with the 5300-07 Technology Level or later. AIX 6.1 or later. IBM i V5R4 with V5R4M5 machine code, or later. SUSE Linux Enterprise Server 10 SP1 for POWER Systems, or later. Red Hat Enterprise Linux for POWER, version 4.5, or later. Red Hat Enterprise Linux for POWER, version 5.1, or later
Initial Order/MES/Both/Supported: Both
CSU: Yes
Return parts MES: No
There are no reviews for this product.